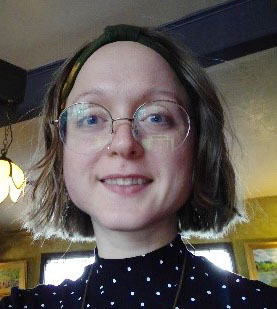 Lauren Beebe, an engineering major at Bucks County Community College, has been awarded this year's AAUW Makefield Area Branch scholarship to attend the National Conference for College Women Student Leaders (NCCWSL).
As a woman pursuing a career in Environmental Engineering, Lauren says that she looks forward to disproving through example the stereotype of an engineer as "a man in a hardhat or building robots or working on a computer."
Lauren is well on her way to setting a good example. She has a 4.0 GPA in her STEM-heavy coursework, has been nominated to the  Phi Theta Kappa Honor Society, is a member of the Engineering Club, and a research assistant for a grant from PECO to design, build, and test a wind tunnel and a wind turbine on campus. Last Spring, she restarted the Eco Club at Bucks, which had become inactive due to a lack of leadership.
Her impressive list of activities extends beyond school. She has volunteered as a firefighter and became nationally certified as an EMT last summer. "Furthermore," she says, "in the past year I completed a tree tender certification course through the Pennsylvania Horticultural Society, an online professional development course through Cornell's Civic Ecology Lab on Climate Change, and I am currently working toward completing an online certification in ArcGIS [mapping software]."
In addition, she works 30-40 hours a week as a server and cater waiter and will be training to become a math tutor for the Academic Success Center at Bucks.
We look forward to hearing her report on the conference, where we are sure that she will have a chance to develop her already obvious leadership skills.