What do you get for becoming a Branch Member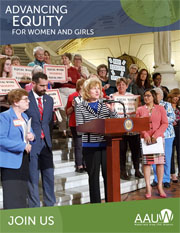 Download our new Membership Brochure
Well, for starters, you will become a branch member of a nationally recognized and respected organization that has fought for women's rights since before the days of the Suffragettes.
You will gain new insights into local and national issues affecting every American citizen through up-to-date political information and branch programs.
You will help local young women get recognized for their accomplishments in math and
science and, with our Girls' Recognition Reception and encourage them to continue their
studies in those areas through programs we support such as PAGES™ and STEMgirlz.
You will support literacy and community through our project, Cops 'n' Kids Delaware Valley. You will help give scholarships to graduating female high school seniors and to a woman
returning to continue her studies in college.
You will aid in helping to develop future leaders of the Branch.
You will gain friendships and enrich yourself through our book groups and other activities.
In short, you will grow from the experience of becoming a member of AAUW.
For more information on our branch, contact us.
Your dues of $90.00 make you a member of the national ($59) and state ($10) organizations, as well as the Makefield Area Branch ($21). (Already a member of National AAUW? Just pay state and local dues to join the branch. Member of another PA branch, just pay branch dues to become a dual member of both branches.)
For more information on national activities, go to aauw.org.
For information about AAUW-PA, visit aauw-pa.aauw.net/.
We would love to have you join.