by Sharon Abrahams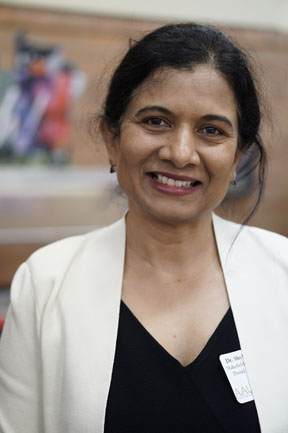 I met with Shyla at the Edgewood Café on Thursday, March 28. She was extremely charming and so interesting that I frequently had to remind myself why we were there in the first place. She was born in Bangalore, India and moved to the U.S. for graduate studies when she was twenty three years old. She has Masters and PhD degrees in Animal Genetics and Biostatistics from the University of Nebraska-Lincoln. She is married and has a son and a daughter. They're seventeen year old twins. She has no pets.
Her husband, Jay Mysore, works for Bristol-Meyers Squibb. They met when he was teaching at a school where she attended classes. (He never taught her class.) Even though Shyla has advanced degrees in Animal Genetics, she works as a statistician five days a week for Johnson and Johnson.
I was curious to know what she does in any spare time she might have, as she rarely has any. She practice runs for a half marathon every year. She also enjoys cooking and proudly announced that she makes the world's best baklava.
We spent time discussing what she would choose for any wish that could be magically granted. She wished she could have had more time with her father, who has passed away. (Her mother still lives in India.) What she would wish for humanity is for people to be more tolerant of each other and to treat each other with kindness. When asked what she'd like people to know about her, she replied that she is a very loyal person and wishes kindness for everyone.
Shyla is fluent in three languages, English, Kannada (her native language), and Hindi. She can understand several more.
Shyla has traveled all over the world, both for business and for vacations. Some of the countries she has been to are Japan, Greece, Peru, Malaysia, Sweden, Tanzania,  Germany, France, England, and, of course, India.
How she came to join AAUW was very interesting. Her daughter was nominated for the Girls Recognition Dinner. When Shyla attended with her daughter, she saw Eva Miller, whom she recognized as a biostatistician as well, but didn't know personally. Eva told her about AAUW. Shyla joined in 2015.
Shyla gave a very unusual answer to the question of what she would choose for a special meal made gratis for her and her guests by a great chef. She replied that it would be a fusion of Indian and French cuisine. She particularly likes to combine the delicate French taste with the spiciness of Indian food. However, there definitely would have to be a moist chocolate cake for dessert. Right on, Shyla! Right on!