by Sharon Abrahams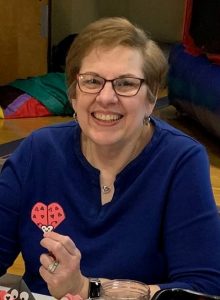 My interview with Kathy Shaginaw took place on Monday, February 1, during the Nor'easter that was raging outside as we spoke on the telephone. Kathy is a very fascinating lady and I hope you all will enjoy reading about her as much as I have enjoyed interviewing her.
Kathy was born in Detroit, Michigan, where she grew up and went to high school. She recalled being there when the famous riots took place in the sixties. (She still remembers seeing smoke from a few miles away from where she and her family lived.)
She met her husband on the web. In 2001, when cleaning up her e-mails, she happened to see an ad for a website that introduced men and women. She had never answered anything like that and decided on a whim to do so. (It was the one and only time she ever did something like that.) It was a good thing she did because he was the man she later married, in 2004.
She and her husband currently have no pets, but in the past, she has had many cats. Ever since Kaycee, her last cat, passed, they haven't felt ready to get another one.
Kathy is a very busy woman. When asked what her hobbies are she said that she loves to bake and to cook and to go to the gym. She admitted that for the past ten years, she has been a "gym rat" and loves to exercise. Last summer, when their anniversary was approaching, she suggested to her husband that they buy a treadmill, since their gym had closed because of COVID. She faithfully uses it every day for a good fifty minutes and listens to books on Apps from our local library and on Audible while exercising.
Kathy has lots of special talents. As the AAUW Makefield Area PA Branch directory shows, she has a PhD in chemistry and a BS/BA in chemistry and math. She is intricately involved with the PAGESTM hands-on science program for sixth grade girls at Chestnut Hill College, which she has organized for more than twenty years. Our Branch has participated in this program since 2004.
Her pet peeve is people who are stubborn or who say no without trying something first. What makes her happy is trying new foods and going to new places.
She has traveled to a number of European countries, as well as to Canada and Mexico. Most of her traveling with her husband has been in the U.S.
When asked what people don't know about her that she wished they did, her answer was that she can be silly and creative and she loves to have fun. (Well, now the secret is out!)
One of her creative outlets has been as the Bookmark Lady for Cops 'n' Kids. Claire Passantino came up with the idea of bookmark monsters and Kathy has created dozens of bookmark designs for various events.
When asked what wish she'd like to come true, she replied that people need to take the time to understand each other; and that drastic improvement needs to be made with regard to race relations.
She teaches chemistry at the Community College of Philadelphia and is grateful to be able to help those students in need. These are students who typically don't have all the advantages that students in other locations have.
When asked if she had ever met anyone famous, she gave a long list of chefs as well as a well-known jazz violinist who attended the same undergraduate school as she did. She also listed Freeman Dyson, the mathematician and physicist.
She prefers to read novels on medical or historic subjects. One of her favorite authors is Lisa Genova.
I asked how she learned of AAUW and why she joined. She explained that in 1987 she moved to Easton, PA.  She saw an article in the newspaper about an event that AAUW was to have. The subject and the goals of AAUW were of interest to her, and she believed in the same causes as AAUW, so she decided to attend. The rest is history.
When asked the question of what meal would she like a chef to prepare for her and guests, she replied that her choice would be the very same 15th anniversary dinner that she and her husband enjoyed at Zahav Israeli restaurant in Philadelphia in 2019. The meal consisted of laffa bread (pita-like bread, made in-house) served with hummus, tahini, and many mezzes. Mezzes are little a
ppetizers, dips, etc. that are served along with the laffa bread. The main course was roasted pomegranate lamb shoulder and Persian rice. The dessert was something very unusual: phyllo dough filled with blueberries and chocolate. What made the meal even more special was that the owner of the restaurant talked with her and her husband after the meal. Kathy felt very lucky to get the dinner reservations because Zahav had just been named the best restaurant in the United States by the James Beard Foundation earlier that year.
It was a pleasure interviewing this fascinating woman.