Three exceptional young women were chosen from a very competitive pool of applicants to receive our Makefield Area AAUW Branch High School Senior Scholarships for 2021. Each year we invite applications from the public high schools in our area: Council Rock South, Morrisville, Neshaminy, Pennsbury, and Bucks County Technical High School. Applicants are nominated by their guidance counselors and must be in the top 10% of their class. We are looking for young women who not only excel in their studies, but who are active, who give to others, and who we think have the potential to make important contributions to their chosen professions and to their communities in the future.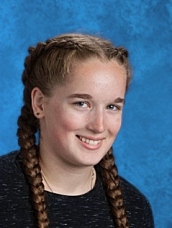 Our first scholarship winner is Caitlin Holden from Bucks County Technical High School, graduating from the Welding and Fabrication program. Caitlin has an outstanding academic record, participates in club and school JV and Varsity ice hockey team as both a player and as a coach (and as a paid referee). She has volunteered at the Yardley-Makefield branch of the Bucks County Free Library. In addition, Caitlin works as a lifeguard and as an election pole worker.
Caitlin has been accepted to several universities, including Drexel University, University of Pittsburgh, West Virginia University, Rensselaer Polytechnic Institute, and Rochester Institute of Technology, but has not yet decided where she will attend at the time of this report. She plans to study Chemical Engineering, which she finds to be the "perfect combination of math and science needed to satisfy… dreams" that she had since childhood to be among the great innovators like Marie Curie, Nikola Tesla, and Stephen Hawking. Caitlin hopes to apply her chemical engineering studies to word on drugs and treatments that improve the lives of others. We certainly hope we see Caitlin's name amongst those great innovators in the near future!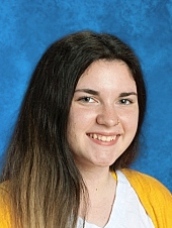 Our second scholarship recipient is Cheyenne Boss from Morrisville High School. Cheyenne will receive the Miriam Nachman Memorial Scholarship. Mim Nachman was an important member of our branch for decades. The scholarship is made possible by donations made in her honor after her death in December 2020.
Cheyenne has been accepted at various schools, but has decided to attend Arcadia University where she will study criminal justice and French (as a double major) with the end goal of becoming an attorney. Cheyenne has worked as a CARES worker at Holy Trinity School since 2018 and as a babysitter for many years, in addition to volunteering as an Alter Server at Holy Trinity Church. She has served on the Morrisville High School student council for three years, is a National Honor Society inductee, participated in the Reading Olympics, and was a girl scout for many years, among other things.
Cheyenne's main aspiration has been a college-level education. She is excited to be able to start on this goal at Arcadia in the fall semester, and we are very excited to help Cheyenne along with this scholarship!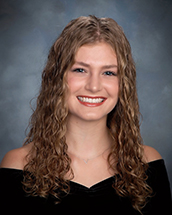 Our third and final scholarship winner for 2021 is Carissa Van Veen from Pennsbury High School. Carissa receives the Amy Lowenstein Memorial Scholarship, an annual award made possible by a bequest from and contributions in honor of a former Branch member and finance officer.
Carissa plans to major in biochemistry with a minor in psychology at one of the various colleges she has been accepted to, which include Penn State, Pitt Honors, University of Maryland, or Villanova (she has not yet committed). She plans to go into the medical field with a desire to specialize in pediatric anesthesiology or psychology. She hopes to work at a children's hospital in her future.
Carissa has a spotless academic record and a long list of accomplishments in her short years. She has volunteered with the Special Olympics, at Tabby's Place Cat Sanctuary, and with special needs students at church for Sunday school. She has also put many hours in to various activities including being the overall chairperson for Mini-THON, Varsity (Captain) and club volleyball teams, student council secretary, the Prom Committee, and National Honor Society inductee, to name a few. In addition, she recently started working as a caseworker at KenCrest Services. We hope that Carissa's studies nurture her enjoyment of biology, chemistry, and life sciences to achieve her goals!
We wish Caitlin, Cheyenne, and Carissa each success in their future studies. Knowing that we have such ambition and talent blossoming into the world ensures us that we have a bright future ahead!