Welcome to the Makefield Area Branch of AAUW, committed to the AAUW mission of advancing equity for women and girls through advocacy, education, philanthropy and research.
NCCWSL Scholarship Winner 2018 Reports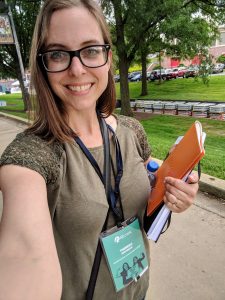 Theresa Reichman, who recently graduated from Bucks County Community College, was this year's winner of our branch scholarship to attend the National Conference for College Women Student Leaders held this spring at the University of Maryland. She recently sent her thanks and a report of her activities at the conference, which she found "remarkable. The synergy and excitement among the women present was palpable and contagious. I cannot thank you enough for sending me, it's an experience that I will carry with me throughout my college education and into my career. "
Read all about her experience here.
---
In pursuit of our mission, our branch

holds regular program meetings, where members learn about a variety of topics from international relations to popular culture
advocates for public policy goals at the local, state, and national levels
spearheads the Cops 'n' Kids Delaware Valley literacy project
holds an annual Girls' Recognition Evening for seventh-grade girls who excel in Math and Science
helped institute Let's Read Math, a program to teach children math concepts through reading children's books
sponsors interest groups that bring together members to develop shared interests
gives scholarships to local high school girls and women returning to college
co-sponsors community events such as the Bucks County Women's History Month Award
The Makefield Area Branch serves the Yardley-Newtown area and surrounding communities of historic Bucks County, Pennsylvania (map).
Contact us for more information.
---