Please give a warm welcome to two new branch members:
Some of you may remember Yauheniya "Zhenya" Cherkas from the Girls' Recognition Reception, where she was one of a number of scientists who joined the girls at tables for discussions. Zhenya has a BS in Applied Mathematics and Computer Science from Belarus State University, a BS and an  MA in Mathematics from Temple University, and a PhD in Statistics from Rutgers. She works as a Data Scientist.
Patrice Pladsen will be familiar to other Cops 'n' Kids volunteers where she has already contributed. Patrice is a retired educator with a BS from LaSalle University, an MEd as a Reading Specialist from Arcadia University, and an MS in Education Administration at Rider University.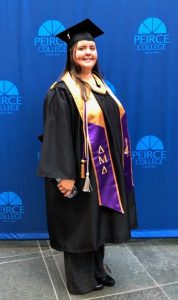 On a happier note, Angela Felver, who officially graduated from Peirce College in December,  attended her commencement on June 11. yesterday and it was very nice!  She was one of nine students invited to sit on the stage during the commencement as an award winner, and received the PICPA Excellence in Accounting Senior Award.   She graduated Magna Cum Laude and as a Delta Mu Delta Honor Society member. She is beginning classes at University of Scranton for her master the week of June 23. Angie also received a nice write-up on the Peirce blog.
Angie will be stepping up as Scholarship Chair in place of Harriet Freidenreich for 2019-2020.
There have been two sad events since the last issue of Connections.
Kathy Shaginaw's mother, Teresa Thrush-Quatro, passed away on the morning of April 24 at the age of 84 in Minnesota. Our condolences to Kathy.
Maureen Corbett's (formerly Gross) ex-husband, Mark Gross, passed away on June 5 after a long illness. If you wish to contact her, Maureen will be moving to a new address on June 27: 114 Windham Court, Newtown, PA 18940.